Phone-Clene Telephone and Headset Cleaning Wipes – x100 PHC100T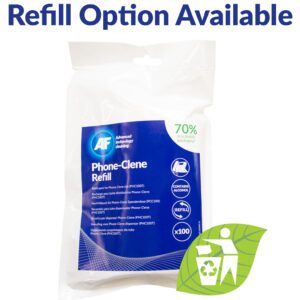 Key points:
Re-sealable tub of 100 pre-moistened specialist phone cleaning wipes 19 x 9.5cm (approx)
Removes daily dust make up and greasy smears telephones, call centre headsets and various plastic casings
Can be re-filled using PHC100R refill pouch to reduce plastic use
Paper based wipes are fully recyclable after use. Each wipe measures 19 x 9.5cm
Anti-Static properties to prevent dust build up
Ideal for hybrid and hot-desk working to keep equipment clean
Product Description
Resealable tub of 100 telephone and hot-desking wipes for cleaning handsets. These fully recyclable paper wipes are impregnated with a gently cleaning formula which contains alcohol to effectively remove any grease, dust and dirt from desk telephones, headsets or other plastic surfaces.
Ideal for hot desking and office environments.
Desk telephones
Call centres
Hospitality
Retail and much more
Wholesale Distributors in the UK / Ireland
AF is available via countless resellers for single units. Please contact one of the below wholesale distributors to find your nearest stockist.
For Distributors in other countries:
Please see the "Where to Buy" Page.
---
---
---
---